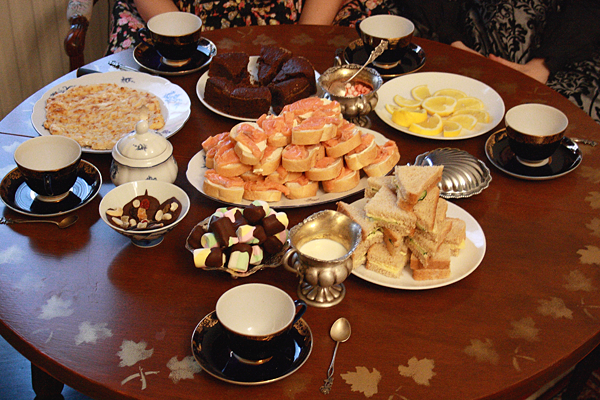 Pidin lauantaina teekutsut Lahteen muuttoni kunniaksi. Paikalla olivat CDR:n tytöt Iiraliina, Rosemaria ja Caramea. Teemaksi olimme valinneet prinsessat joten kruunujen kimallus täytti juhlahuoneiston.
Saturday I hosted a teaparty to celebrate my moving to Lahti. CDR-girls, Iiraliina, Rosemaria and Caramea attended. We had chosen our theme to be princeses so it was glitter of crowns all around.
Kaikki näyttivät hyvin viehättäviltä kuten kuvasta näkyy.
We all looked very charming as the pictures tells.
Omaan asuuni kuului:
Kruunu: AT
Ruusut: Sokos ja Ninja
Paita: Vintagea
Kaulakoru: Alchemy gothic
Hame: Itse tehty
Kengät: Barbara Bucci
My outfit:
Crown: AT
Roses: Sokos and Ninja
Shirt: Vintage
Necklace: Alchemy Gothic
Skirt: Hand made by me
Shoes: Barbara Bucci.
Mademoiselle Parapluie