Tänään on tarkoitukseni esitellä pari suosikkiani tämän syksyn mallistoista. JA yllätys yllätys listalle ei päätynyt lainkaan moitiéta. Tämä ei suinkaan tarkoita että en pitäisi syysmallistosta, kyse on vain siitä että jollain muulla oli jotain kivempaa
Today it is my meaning to present some of my favorites from autumn collections. AND suprise, suprise nothing from Moitié! This does not mena I did not like the collections, I just prefered something else.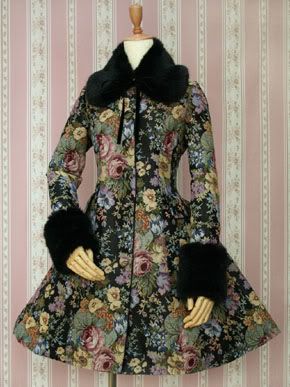 Ensimmäinen valintani on tämä ihastuttava Victorian maidenin takki. Kuten kuvasta näkyy kyseessä on prinsessalinjainen leikkaus joka korostaa takin kuosia ihastuttavasti. Musta karvakaulus ja hihansuut kuitenkin rauhoittavat kieltämättä hivenen levotonta printtiä.
My first choice is this faboulous coat by Victorian maiden. As you can see it has a princess line cut which makes the coats print stand out charmingly. Black fur collar and cuff work to calm down the undeniably fuzzy print.
Takin selkäkuvasta huomaamme että selässä on nyöritys jolla takin kokoa voi hieman säätää. Nyöritys on kuitenkin hiukan liian ohut takin tukevaan kankaaseen verraten.
Coat's back picture shows us the corset lacing that gives the opportunety to fix the coats size a litlle bit. The lacing itsef seems a tad too thin compared to the coats heavy fabric.
Pidän tämän takin yksinkertaisesta leikkauksesta joka sallii sen käytön monissa tyyleissä ja monenlaisten vartaloiden yllä. Myös printti on aivan ihastuttava vaikka ymmärrän että jotkut mieltävät sen mummomaiseksi. Eritoten minua kuitenkin viehättävät takin turkiskoristeet.
In this coat I like the simplicity of the cut which allows it to be used in multiple styles and worn by multiple different bodyshapes. The print is also deligthful althoug I can see why some people would find it grannyish. Especially I like the fur details on the coat.
Seuraavana vuorossa on tämä upea Chantillyn mekko. Malli on hyvin runsas, siitä löytyy rusetteja, rypytystä ja röyhelöä. Mekon vyötäröllä on shirringiä ja siinä on lyhyet puhvihihat. Pääntie on neliön muotoinen ja yksityiskohtana löytyy ristiin solmittavat nauhat.
Next up is this charming onepiece dress by Chantilly. The dress is very luxurious, it has bows, ruffles and details to spare. Waist of the dress is shirred and it features short puff sleeves. The neckline is square shaped and features laces to be tigth crossed.
Mekon takaa löytyy leveät vyötärönauhat jotka ovat ilmeisesti joko raakasilkkiä tai taftia. Runsaus jonka huomasimme jo mekon etuosassa jatkuu myös taakse.
Back of the dress shows us the wide waist tights that are either raw silk of taffeta. The luxurious feel of the dress noticed in the front is continued on the back.
Tämä mekko hurmasi minut runsaudellaan ja upealla värillään. On kuitenkin myönnettävä että malli ei sovi monentyyppisille vartaloille ja on hivenen lapsekas. Siinä on suorastaan jotain hivenen AP:maista.
This dress charmed me with it luxourious quality. Though I must admit that the cut of the dress is not flattering to most figures and it has some childlike qualities. Also I feel that there is some likeness to AP's dresses.
Mitä suosikkeja teiltä rakkaat lukijat on tämän vuoden mallistojen joukossa? Ovatko AP:n uudet mekot hurmanneet teidät vai haluatteko mieluummin sen ihanan Innocent worldin headdressin? Vai onko elämänne synkkääkin synkempää joten kaipaatte moitién uusinta liivimekkoa?
Which are your favorites my dear readers? Have you fallen in love with AP's new OP:s or has the Innocent world's new head dress enchanted you? Or is your life darker than dark to make you fret after moitiés new JSK:s?
Mademoiselle Parapluie.