Sanksi of Sanna von Steam has rewarded me with this award.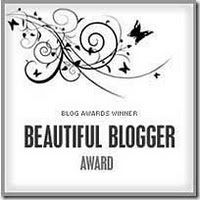 Ilmeisesti asiaan kuuluu kertoa seitsemän asiaa itsestään ja nimetä seitsemän muuta bloggaajaa.

Apparently I am requiered to tell seven things about me and nominate seven bloggers.

Seitsemän asiaa minusta
1. Harrastin Larppaamista kunnes päätin lopettaa viime kesänä peliporukkani valitettavan hengenlaskun tähden
2. Synnyin kaksitoista päivää lasketun ajan jälkeen. Tästä olen laskenut että minut siitettiin ystävän päivänä
3. Liian kirkas valo inhottaa minua koska se saa minut aivastelemaan. Yliherkkä valolle?
4. Lempikirjojani ovat Dracula, Harry Potterit ja Jane Austenin, Bronten sisarusten ja Dumasin teokset.
5. Minulla on yliherkkä makuaisti jonka takia en nauti lainkaan alkoholijuomia.
6. Uskon vakaasti keijujen olemassa oloon koska Peter Pan.
7. Pelkäsin lapsensa Muumien Jäärouvaa.
Seven things about me
1. I used to larp till last summer when I quit due to spiritchanges in my larp crew.
2. I was born twelwe days after my mothers due date. From this I have claculated that I was conceived at valentines day.
3. Ligth thats are too brigth annoy me because they make me sneeze. Oversensitive to ligth?
4. My favourite books include Dracula, Harry Potters and the works of Jane Austen, Bronte sisters and Dumas.
5. My sense of taste is oversensitive. Because of this I never drink alcohol.
6. I Believe in fairies because Peter Pan.
7. As a Child I was afraid of the Icelady from the moomins.
Seitsemän bloggaajaa/ Seven Bloggers
1. Caramea
New vogue Childrenistä
: Erinomaisen tyylikäs ja kaunis.
Exellently stylish and beautiful
2. Serafiron
Mission Laudaturista
: Koska pyrkiminen suureen tavoitteeseen on osa todellista kauneutta.
Because working for a grand cause is part of true beauty.
3. Dojem
Fotos de utopiesta
: Todiste siitä että gothic lolita ei ole pelkkää moitiéta.
Proof of the fact that gothic lolita isn't just moitie.
4. Grotesca
Petals from the torture gardenista
: Goottilaisuus on kauneutta.
Goth is beauty.
5. Sera
Herkkuja mahan täydeltä-blogista
: Taitava leipoja ja kaunis lolita.
Skilled at baking and a pretty lolita.
6. Blue
Dreamy Bluesta
: Elegant gothic lolita.
Elegant gothic lolita.
7. Iiraliina
Rosa Ntidasta
: Elegantein tuntemani henkilö.
The most elegant person I know.
Mademoiselle Parapluie.