Kävin Kukkaisvarkaan kanssa tapaamassa Maria Helsingissä ja tässä on ensimmäinen asuistani (Pyydän jättämään derppaavan naaman huomiotta). Mekon ja päähineen tein itse, paita on Thalesilta, kengät Parikalta, kaulakoru Kaleva Korun ja loput haalittu mukaan sieltä sun täältä. Kävimme ostelemassa vähän teetä ja tarkoituksena oli piipahtaa Götan maailmassa mutta emme loppujen lopuksi osanneetkaan sinne ( ja se olisi ollut kiinnikin).
I visited Mari with Flowerthief and this is the first of my looks. (Ignore the derp face please). I made the dress and the headthingy, shirt is by Thales, shoes by Minna Parikka, Necklace from Kalevala koru and everything is random. We went to shop some tea and were supposed to visit Göta's world (an Antique shop) but unfortunately our map reading skills weren't quite good enough.
Ostamani teet.
The teas I bougth.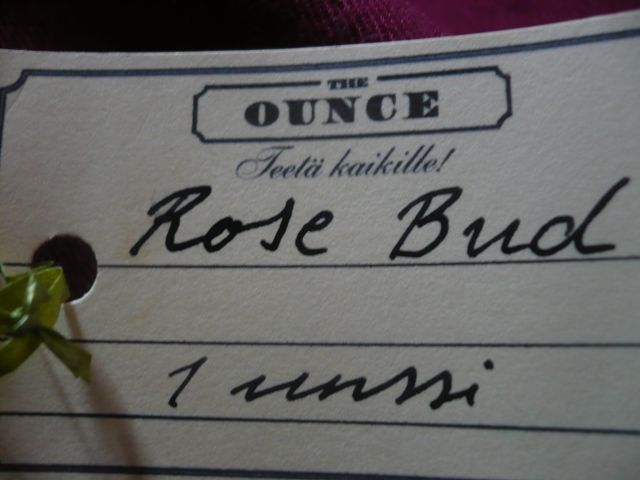 The Ouncen laput ovat niin ihanasti kirjoitettuja.
The tags at my favorite teashop are so lovely.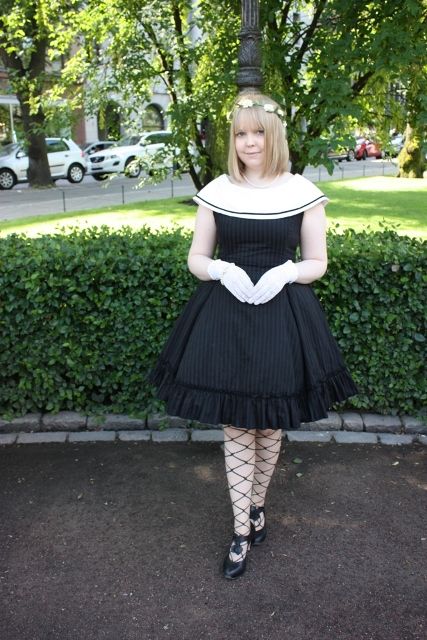 Tällaista minulla oli ylläni kun kävimme Madteaparty:n ja Ludmillan järjestämässä miitissä. Miitti oli järjestetty Elenan Suomen vierailun kunniaksi. Yllättäen veimme hänet käymään The Ouncessa (Suomen lolien virallinen hangout?) ja Minna Parikan liikkeessä. Oli tosi mukavaa nähdä kaikkia ja toivottavasti tapaamme pian uudelleen.
This is what I wore to a meet up organized by Madteaparty and Ludmilla in honor of Elena's visit to Finland. We naturally oo her to The Ounce (The official Finnish lolihangout ?) And to Minna Parikka. It was lovely to see everyoine again and I hope we shall meet again soon.
Ylläni oli/ What I wore
Päähine/Wreath: Seppälä
Leninki/Dress: Carina et Arlequin
Sukkahousut/Stockings: Cubus
Kengät/ Shoes: Minna Parikka
Hansikkaat/Gloves: Vintage
Korut/Jewlery: Lahjoja / Gifts
Virallinen ryhmäkuva
Official groupshot
Lopuksi muka taiteellinen kuva ruusunnupusta teessä.
To finish an "Artful" picture of a rose bud in tea.
Mademoiselle Parapluie