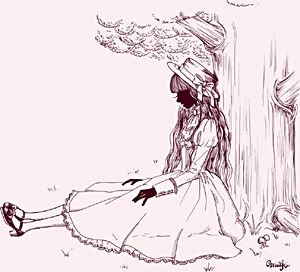 Reilu varoitus: Seuraava teksti sisältää suorastaan höpeöä idealismia ja vanhanaikaisten arvojen ihannointia. Jos et siedä sitä, ole hyvä ja poistu sivulta nyt.
En useinkaan tee uuden vuoden lupauksia. En aio aloittaa sitä nytkään. Pikemminkin haluaisin esittää toiveita ja tavoitteita. Uusi vuosi edustaa minulle muutosta.Vuonna 2012, muun muassa, valmistun. Minusta tulee pukuompelija ja joudunkin helmikuusta alkaen keskittymään täysillä opinnäytetyöhöni joka luonnollisesti liittyy lempityyliini. Mutta tarpeeksi käytännöllisistä asioista.
Tulevana vuonna aion kehittää luonnettani. Olen jo pitkään pyrkinyt olemaan hieno nainen ja aion jatkaa tätä pyrkimystä myös ensi vuonna.
Hieno nainen tarkoittaa minulle naista joka on lämmin, ystävällinen, kantaa itsensä arvokkaasti ja kauniisti ja pyrkii olemaan kohtelias jopa niille jotka eivät osita samaa kunnioitusta hänelle. Hieno nainen on vahva luonteeltaan, arvostaa itseään ja muita, eikä anna kenenkään kulkea ylitseen. Hieno nainen on naisellinen, sillä jos hän ei olisi vosiko häntä kutsua hienoksi naiseksi. En sano että olen saaavuttanut kaikki nämä tavoitteet. Minulla on vielä paljon työtä. Esimerkiksi en aina pysty pitämään temperamenttiani kurissa ja silloin saatan valitettavasti puhua terävämmin kuin haluaisin. Haluan pyrkiä korjaamaan nämä erheet ja siten kasvaa ihmisenä.
Monista tämä tavoite kuulostaa varmaankin typerältä, ehkä jopa vanhanaikaiselta. Aion hyväksyä sen. Ymmärrän että olen jotensakin vanhanaikainen. Nautin moderneista mukavuuksista, enkä tahtoisi elää 1700-luvulla, tai edes 1800-luvulla. Arvostan vain vanhanaikaista estetiikkaa, käytöstapoja ja jossain määrin myös vanhoja arvoja. Kenties tämä viehtymykkseni johtuu osittain esteettisistä mieltymyksistä. Uskon vakaasti että jos ympäröi itsensä kauneudella, lukee kauniisti kirjoitettuja kirjoja ja yleensä ajattelee kauneutta, se näkyy kasvoilta. Kauneus on eskapismia, Kauneus on elämää, Kauneus on luonnetta. En kykene elämään ilman kauneutta ja siksi haluan olla kaunis itsekin.
Ja juuri tämän tavoitteen takia olen päättänyt aloittaa uuden juttusarjan. Uudessa sarjassa tulen kösittelemään erilaisia saavutuksia. Joskus kyse saattaa olla niinkin turhanpäiväisestä asiasta kuin kirjontatyö, joskus taas jostain vakavammasta, kuten vaikka hyväntekeväsyydestä (haluaisin onnistua tekemään yhden hyvän työn viikossa mutta saa nyt nähdä). Sarja voi olla hivenen lifestylepainotteinen ajoittain, mutta ehkä on mukavaa että blogissa on muutakin kuin vain asukuvia. Toivottavasti tulette pitämään sarjan seuraamisesta, yhtä paljon kuin minä pidän sen kirjoittamisesta.
Translation:
A fair warning: The next text contains absolutely batty idealism and adulation of old fashioned values. If you can not stand for that please leave the page now.
I rarely give new years resolutions. I shall not start it even now. I shall rather make wishes, aspirations. For me a new year represent a change. In the year 2012 I shall graduate. I shall become a seamstress and when february comes I shall have to consentrate on my diploma work which will of course have something to do with my favorite style. But enough of serious business. On the coming year I shall cultivate my character. I have long aspired to be a lady and I will continue to work on this aspiration even next year.
A lady means to me, a woman of warmth, compassion, friendliness, dignity and politeness even when she is not treated with the same courtesy. She has a strong character, values herself and others and does not allow anyone to walk all over herself. She is feminine, because without femininity how can she be called a lady. I can not say that I have met all these demands. I have lot of work left before I can call myself a lady. For example I have a temper which I can not always control, resulting in sharper words than I would hope to speak. I wish to correct these errors and so transend myself.
To many this goal will sound silly, even old fashioned. I will accept it. I undestand that I am somewhat old fashioned. I do enjoy modern comforts, and would not like to live on the 18th or even the 19th century. I value old fashioned aesthetique, manners and in some ways old fashioned values too. Perhaps this enfactuation has a lot to do with my preferred aesthetique choices. I strongly believe that if you surround yourself with beauty, read beautiful books and in general thinks beautiful things it will show on ones face. Beauty is escapism, Beauty is life, Beauty is character. I can not live without it and so I must be beautiful.
And because of this goal I have decided to start a new series on this blog. In this new series I shall review my accomplishments. Sometimes those migth be something as frivoulous as a piece of embroidery or as series as charity work (I would hope to commit one good deed a week bu we'll see). I know this series migth be bit heavy on the lifestyle side of things but it would be terrible dull to host a blog of just outfit pictures. I hope you will enjoy reading this series as much as I will enjoy writing it.
Kiitos että jaksoit lukea täne asti.
Thank you for reading my wall of text.
Mademoiselle Parapluie