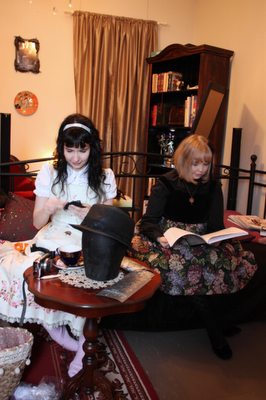 Järjestin lauantaina yhdistetyt teekutsut ja askartelukutsut. Minulla oli ryhmäkuvakin mutta olen onnistunut hukkaamaan sen koneeni syövereihin. Tässä kuitenkin pari kuva minusta ja Susannasta joka oli kaunis Innocent worldin mekossaan.
At saturday I hostd a combined tea- and craft party. I had a groups shot but unfortunately I eem to have stored it some where very deep into my picture folders. Anyways, here is a picture of me and Susanna in her lovely Innocent world dress.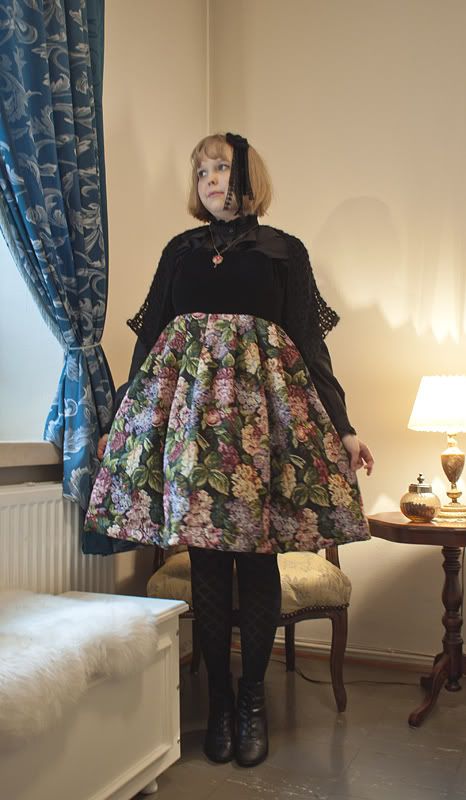 Suurin osa omaa asuani on itsetehtyä, ainoastaan paita, kaulakoru, sukat ja kengät tekevät poikkeuksen. Ostin mekon kankaan internetistä koska suomesta ei tunnu löytyvän tuon tyylistä gobeliinia. Mekko onkin virallinen Mymmelimekkoni.
Most of my outfit is hand made. Only the shirt, the socks, the boots and the necklace are bougth. I found the dress fabric online because one can't find this kind of gobelin in Finland. The dress is my official Mymmelidress.
Kiitos vielä kerrran kaikille miittiin saapuneille. Toivottavasti näemme taas pian.
Mademoiselle Parapluie