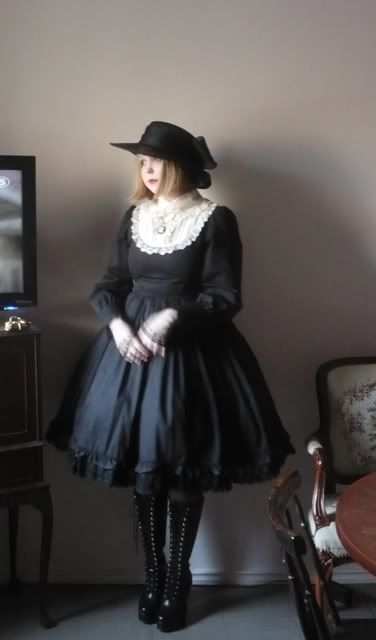 Kävimme kukkaisvarkaan kanssa katsomassa Dark Shadowsin ja pitihän tilaisuuden kunniaksi pukeutua. Halusin olla hivenen vampyyrimainen ja mielestäni onnistuin melko hyvin. IW:n op toimii myös gootissa siis.
We went to see the Dark Shadows, with Flower thief. To commemorate the occasion I dressed upo a bit vampirelike and in my opionion it worked out pretty nicely. IW works even with Gothic.
Elokuva oli todella inspiroiva. Saattaa siis olla että ilmaannun jonnekin kunnon vampyyrimeikissä. Myös puvustus oli todella hyvin toteutettu ja sain ideoita joita tulen käyttämään myös omissa asuissani. Toisaalta milloinkas Tim Burton ei olisi inspiroinut minua.
The movie was truly inspiring. It migth be that at somepoint I will show up somewhere with a full vampire makeup. The costuming was very nice too and I found many elements that I can use in my own look too. Although Tim Burton always inpires me.
Lopuksi on sanottavat että jos ette ole vilä nähneet Dark Shadowsia, ostakaa liput heti.
In conclusion I must say that if you haven seen Dark Shadows yet, buy the tickets NOW.
Häsvätään....
Random pic is random
Mademoiselle Parapluie