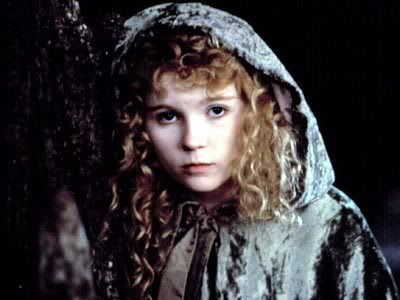 Yksi suurimmista inspiraation lähteistäni on vampyyrikronikoiden Claudia. Vampyyriksi muutetun lapsen tarina tuntuu kiehtovalta. Vaikka Claudian mieli hänen tarinansa aikana aikuistuu ja kehittyy niin hänen vartalonsa on ikuisesti lapsen. Lopulta tämä lapsen ruumis saakin hänen tappamaan Lestatin ja pakenemaan Eurooppaan Louis'n kanssa.
One of my greatest sources of inspiration is Claudia from Vampire Chronicles. The story of a child turned to vampire is fascinating.Althoug her mind grows up her body is eternally to be a childs. Eventually this body drives her to murder Lestat and escape to Europe with Louis.
Claudiassa minua kiehtoo eritoten se että tavallaan hän on ultimaattinen lolita.
In Claudia I see the ultimate lolita.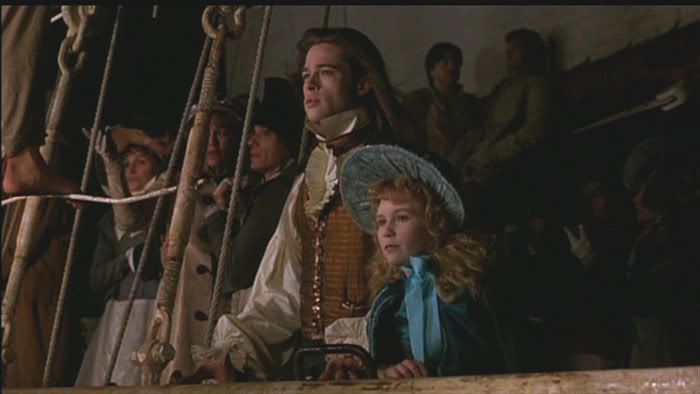 Claudian tyyli muuttuu paljon hänen tarinansa aikana. Lestat pukee hänet hienoimpiin lastenvaatteisiin ja asusteisiin mutta karattuaan Louis'n kanssa Claudia alkaa pukeutua loisteliaisiin aikuisen naisen asuihin. Kuolemattomuudesta johtuen Claudian hiukset eivät ikinä kasva tai muutu. Elokuvassa hänellä on villit kiharat jotka varsin hyvin sopivatkin myös lolitaan.
Claudia's style evolves a lot in the course of her story. Lestat dresses her up in the finest childrens wear of the time but when she escapes with Louis se starts to wear more magnificient, grown up clothes. The only not changin thing is her wildly curly hair that would not look out of place with lolita.
Lisätäksesi Claudian tyyliä lolitaan voit aloittaa Claudian lapsiasuista. Yksinkertainen empirelinjainen lolitamekko jostain hienommasta kankaasta, matalat nyöritettävät kengät, superkiharaiset hiukset ja luonnollinen kalpeahko meikki saattaisivat olla hyviä vaihtoehtoja. Asusteita ei tarvita paljoa vaikkakin elokuvissa bonnetti tuo lapsenomaisuutta monenlaisiin asuihin.
When including Claudias child like look in lolita one could use empire lined dresses with low heeled lace up shoes and super curly hair. There is no need for many accessories although she uses a bonnet in the movie which could be used in this look too.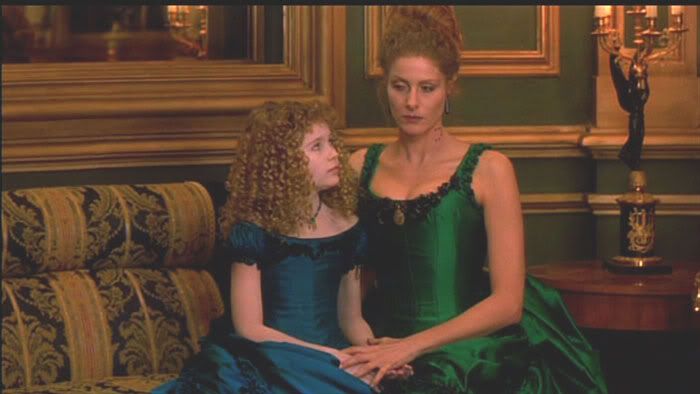 Jos taas Claudian aikuistyyli kiehtoo enemmän niin on aika ottaa esiin ylelliset silkkitaftit a la Mille fleurs tai Atelier Pierrot. Turnyyri on ehdoton valinta . Tämän kauden aikana Claudia käyttää myös voimakkaita jalokivisävyjä joita koristetaan mustalla pitsillä. Riikinkukonsininen, smaragdinvihreä, rubiinin punainen ja purppura eivät ole huonoja valintoja tämän tyyliseen asuun. Lisää näyttävyyttä voi luoda korkeilla koroilla ja näyttävillä hiusasusteilla ja koruilla.
If her more grown up look is more to your liking you migt want to go with silk taffetas like Mille fleurs or Atelier pierrot. A bustle would be cool too. In this style Claudia uses a lot of strong jewel tones accented with black lace. Peacock blue, ruby red, royal purple and emerald green are not bad choices for this look. To add more dash to the look one migth choose to wear high high heels, over the top hair accessories and gorgeus jewels.
Mademoiselle Parapluie.